My first priority was to make the word Pakelo more legible so it wouldn't run the risk of being read incorrectly, as well as to try to make it easier to reproduce in prints or embroidery.
Says Rino Polacco, Pakelo's Marketing Director.
"I started with a font called Impact, a distinctive typeface, so that it would convey the right sense of strength and power to the logo. I then tried to use the same colours: the red background, the word pakelo in white with a black outline, but without the shadow effect, to give the logo a cleaner look. Lastly, the words Motor Oil were replaced by Lubricants to encompass the broader sense of our business and not just limited to motor oil. The final result satisfied me very much. The legibility was significantly improved even though the logo was different. 
My father, Giuseppe, and uncle Elio were not very keen on the change, both because of a question of tradition, but also because of the risk that customers would no longer identify the company with the new logo. In the end, the final sketch ended up in a drawer for several years!

It was only later that the need for a new Pakelo logo arose. To meet the needs of the new single-brand championship Maserati Trofeo in the role of technical sponsors, the company needed a logo changed in a Racing key."
What better opportunity than this! So, in December 2002, when the new racing car was introduced for the Maserati Trofeo single-brand championship at the Bologna MotorShow, the Pakelo logo with its new graphics also made its official debut. The positive feedback that we subsequently received from visitors made us realise that we were on the right track. Shortly after, the transition to the new restyling was automatic and the logo was gradually replaced on all the company's packaging and the official documents. The rest is more recent history for all to see.
We'd like to finish with a question that's been puzzling us:
where did the name "Pakelo" come from?
Legend has it that Giuseppe Polacco's daughter, Chiara, when was little couldn't pronounce the surname "Polacco", mispronounced it as "Pàchelo". It was then adopted as a new term that later became Pakelo. The "K" was used to give it a more international pronunciation. Truth or fiction? It remains a bit of a mystery, but we like to think, however, that the family is behind everything, even the company's "secrets".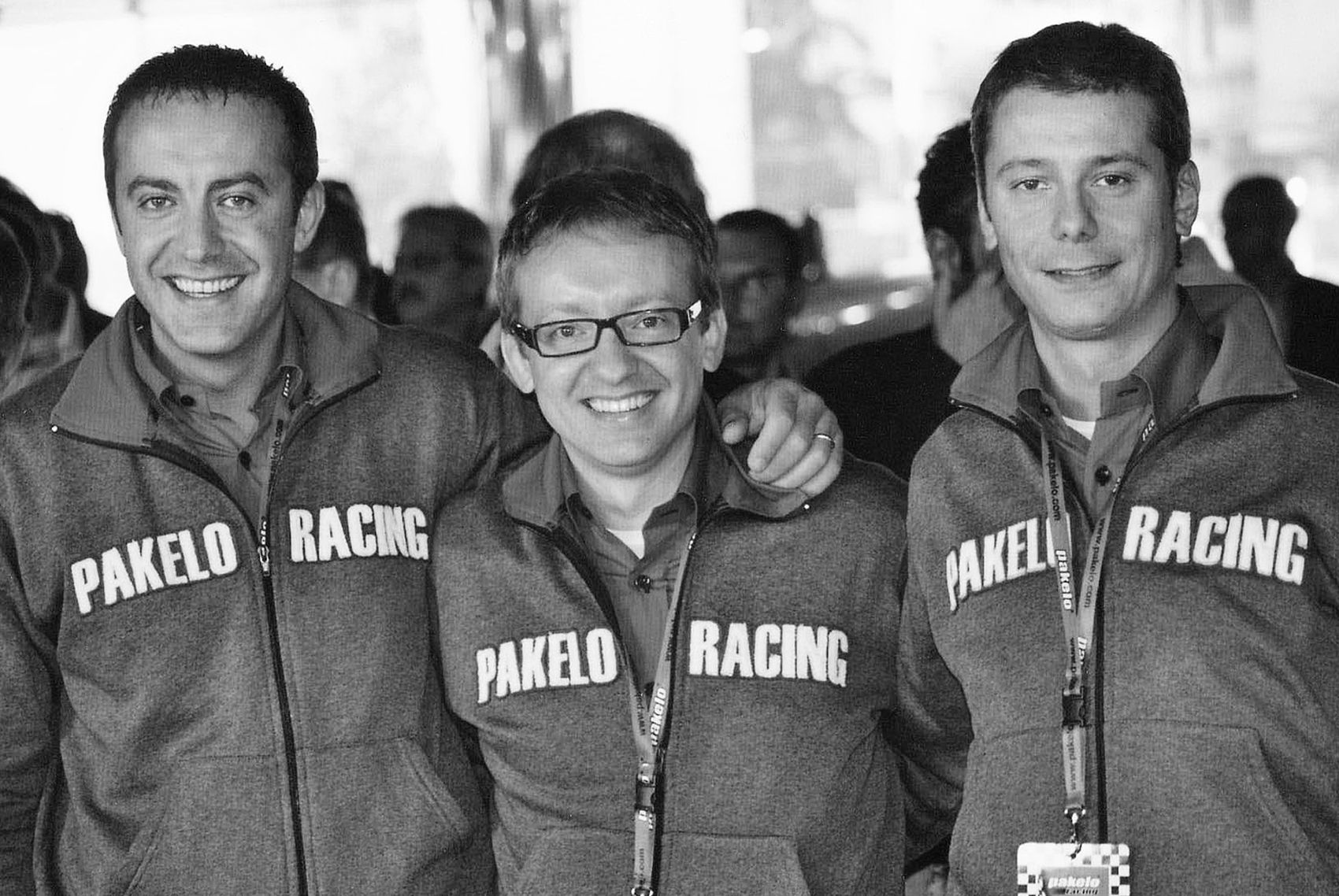 From left to right: the owners Aldo, Rino and Alberto Polacco.
(2005 - Maserati SpA headquarters, Modena)